Car2go: Exploring The Liability And Insurance Ramifications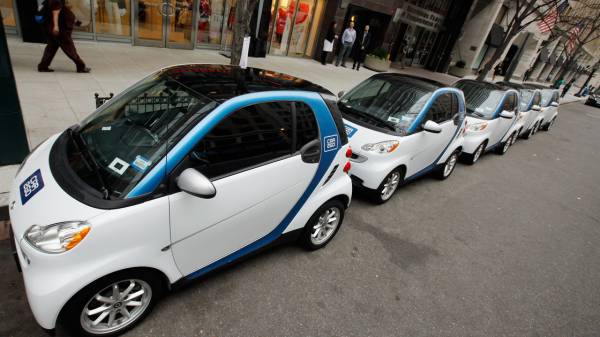 I continue to be interested in the ways technology is changing the way we get around. In previous blog posts I've discussed ride-sharing apps as well as Google's driverless vehicle. While new technologies have made these innovations possible, I fear that old-fashioned concepts of liability and insurance are not being fully considered by the consumer.
car2go is a car sharing company owned by German company Daimler. Their vehicles (Smart Cars) are currently found in more than a dozen cities in the U.S., Canada, and Europe. Recently, NPR reported on car2go and how a "cultural shift" has taken place in how we now view automobiles. The story quoted Jeffrey Tumlin of the transportation planning firm Nelson Nygarrd as saying, "People of my generation believed that our private automobile said a lot about who we are, that [it] defined our power status. The younger generations don't seem to be buying into that anymore, and they are seeing automobiles as simply a tool." Of course the idea of the car being "simply a tool" is even more true in urban centers – and that's where companies like car2go have launched their car sharing product.
I liken car2go to Redox – the popular movie rental kiosks. For example, in Seattle, there are nearly 300 car2go vehicles parked at various locations throughout the downtown area, or "home area" The vehicles are to be used within the home area and must be returned to any car2go approved parking space. Using either the car2go website or app, you can locate an available vehicle and reserve it vehicle up to 15 minutes prior to commencing a trip – or you can start using it immediately if it's available. Here's a screenshot of the car2go Seattle map. The blue icons indicate the location of a car2go vehicle: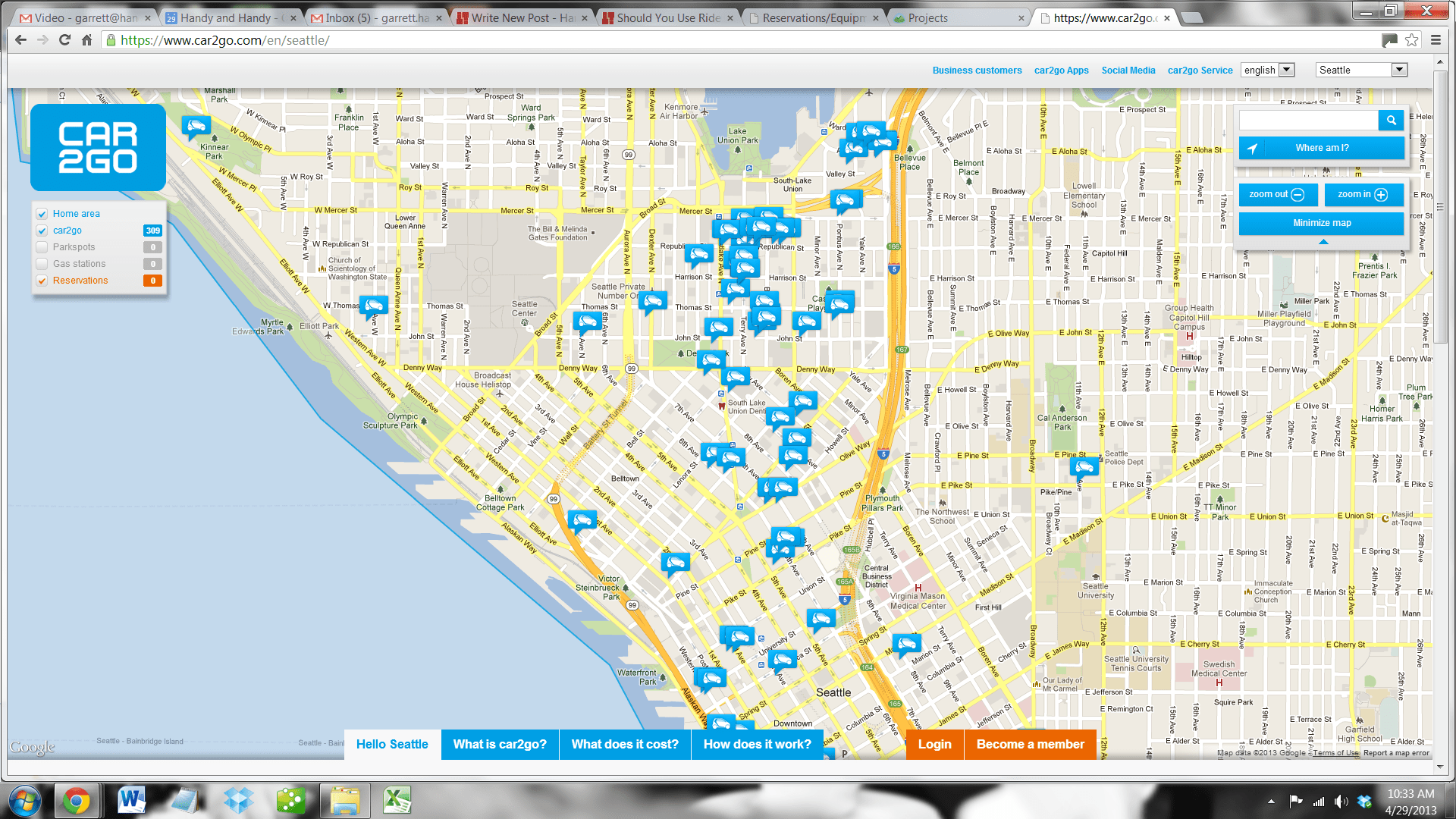 Once registered to use a car2go vehicle, you are issued a "member car" which is similar to a credit card. Each car is equipped with a card reader and you simply swipe the card and you are checked in to use that vehicle. For security purposes, you are required to enter a PIN in order to start the car. You are charged .38 cents per minute to use the car. You do not have to pay for parking and you do not have to pay for gas. You also do not need to purchase insurance – it comes included. And for me, that's where the problem lies – how much insurance is car2go providing and can you purchase additional coverage? Would your own personal auto insurance cover you?
To begin to answer these questions I went searching for the "terms and conditions." After some searching, I finally found 15 pages of the fine print. Here's some notable items:
– car2go reserves the right to repossess any car2go vehicle operating outside the Fixed Area of Operation.
– The driver is responsible for any traffic/parking tickets.
– The driver must notify car2go and its insurer of any traffic tickets.
– The driver shall not use the vehicle while under the influence of alcohol or drugs – whether legal prohibited, prescribed or otherwise – "a zero-tolerance policy is adopted and a limit of 0.0% applies."
– The driver shall not allow third parties to drive the car.
– The driver is solely responsible for all damage to a vehicle.
The above items seem fairly obvious. Here's an interesting one:
– "In the event of an accident, the Member shall not acknowledge his or her culpability, shall not accept or admit any liability, and shall not make any similar declaration."
And here's the provisions on insurance coverage:
– "The Member qualifies as an insured under the car2go insurance only if the Member complies with these Terms and Conditions . . . [t]he car2go insurance does not cover a Member (or any other driver or vehicle occupant) if the vehicle is used in violation of these Terms and Conditions."
– The car2go insurance provides . . .
(a) liability insurance coverage for bodily injury and property damage to a maximum limit of $100,000 per person/$300,000 per accident
(b) basic no-fault benefits if the applicable state has adopted a no-fault statute
(c) uninsured motorist bodily injury coverage with a coverage limit equal to the lesser of: the statutory minimum financial responsibility limits for the applicable state or province and the minimum limits of uninsured motorist coverage defined by the laws of that state.
– No other insurance is provided by car2go.
First, $100,000 may be sufficient liability coverage for the run-of-the-mill low speed fender bender. But what if you hit and kill a pedestrian who is in a crosswalk? All of a sudden you are under-insured and facing excess exposure. If you carry your own personal auto insurance, it's possible that you will be afforded excess coverage, but on the other hand, an exclusion may apply. For example, if you use a car2go vehicle on a daily basis, your own auto insurance company may invoke the "regular use" exclusion – denying coverage on the basis that the car2go vehicle is available for your regular use. Second, you have to abide by the Terms and Conditions in order to be covered. What if you forget to notify car2go about that parking ticket? What if you get in an accident outside of the home area or fixed area of operation? What if you get in an accident in violation of the zero-tolerance alcohol drug policy – maybe your blood-alcohol content is only .01%?
My biggest concerns deal with the minimal limits of uninsured motorist coverage that is provided and lack of underinsured coverage. If you get seriously injured as a result of a uninsured hit-and-run accident, you may only have coverage of $10,000 – $25,000 (depending on the state). That small amount of coverage may not even cover your medical bills. Second, there appears to be no underinsured motorist coverage. Underinsured coverage protects you in the event the at-fault driver doesn't have enough insurance to cover your damages. I believe you are taking a big risk by operating a vehicle without underinsured coverage. Again, it's unclear as to whether your own insurance (if you have it) will cover you in the event you are in an accident while operating a car2go vehicle. Before using a car2go vehicle, it wouldn't be a bad idea to call your insurance company and ask some questions.
The bottom line is, if your're going to use a car2go vehicle just be aware of the possible ramifications should an accident occur. It's important to be familiar with the Terms and Conditions and read the fine print. I don't bring up these issues to necessarily discourage people from using car2go. I think it's an clever and innovative service that fills a need for urban consumers. It's affordable, practical and convenient. I applaud car2go for at least providing the $100,000 in liability coverage. These are complicated issues and we'll just have to see how they play out.