Roosevelt Teen Dies In Car Crash
Various news outlets are reporting that a Roosevelt, Utah teen has died as the result of a single car rollover. The crash victim was 17 years old. It's reported that the driver was speeding and lost control of his car and went off the road. The driver was not wearing a seat belt and was thrown from the car.
This is a tragic accident and loss of life and my heart goes out to this young person's family and friends.
For the rest of us, it's another reminder that life is precious and that we need to be careful when we get behind the wheel. Above all, wear a seat belt. According to the National Safety Council, seatbelt usage averages 88% nationally. That's an encouraging statistic and apparently seat belt usage is on the rise. However, they also find that the following groups are less likely to wear a seat belt:
Teens
Commercial Drivers
Males in rural areas
Pick-up trick drivers
People driving at night
People who have been drinking
The National Highway Traffic Safety Administration estimates that wearing a seat belt reduces the risk of crash injuries by 50 percent. Over the past several years NHTSA has done effective awareness campaigns regarding seat belt usage, notably, Click it or Ticket. This campaign and others have help to increase seat belt usage.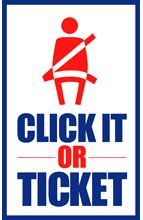 Let's make sure we're all vigilant about wearing our own seat belt and reminding others to do the same.