Salt Lake City Skiing Accident Attorney
Utah is a world-renowned destination for skiers, with at least 14 renowned ski areas, known for its perfect powdery snow, scenic vistas, and exhilarating slopes. With 10 world-class ski resorts, 500 inches of snow, and these resorts within an hour of Salt Lake City's airport, the region is bustling with skiers during the snowy season. 
But with the exhilaration of flying down a snowy slope comes the risk of serious accidents on the ski slopes, trails, lifts, and other equipment. Sometimes a skier experiences an accident through their own inexperience or recklessness on the slopes, but what if the accident occurred due to a preventable hazard, a collision with a reckless skier, faulty equipment, or operator error?
When your ski vacation is cut short due to a preventable injury and someone else was at fault, you deserve compensation for your damages.
Ski accident attorneys at Handy & Handy have countless hours of experience working with harmed skiers and snowboarders in Utah. If you are from another state or even another country, and you are injured at a Utah Ski Resort, your case will almost always need to be litigated by an attorney who is licensed in Utah. The experienced ski accident lawyers at Handy & Handy are mountain enthusiasts themselves, so they know the ski areas and ski law, and they are ready to help you with your Utah ski injury claim.
Ski Accident Attorneys For Snow Season Injuries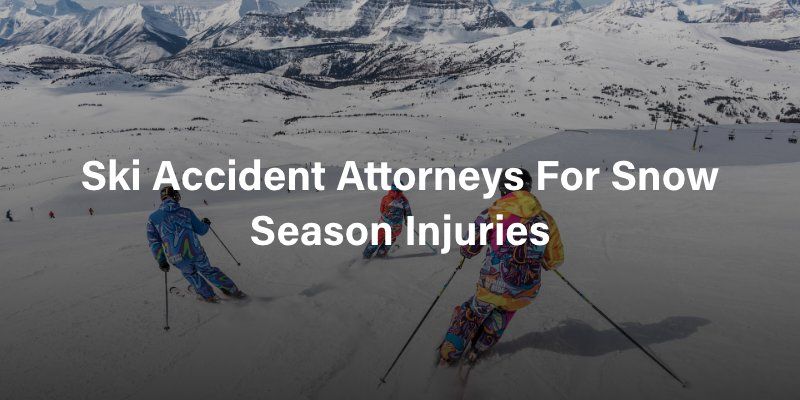 Injuries while skiing can be caused by a number of factors, including ski lift failures, employee and lift operator errors, poor ski slope maintenance, obstructions and obstacles, poorly trained ski instructors, collisions with reckless and out-of-control skiers or boarders, collisions with snow-cats or snowmobiles, machinery, and other mountain equipment, and many other forms of potential skiing-related negligence.
We can help represent people in cases against ski resorts that have committed certain types of negligent or intentional acts, in cases against other skiers, boarders, or individuals who acted negligently or recklessly, and in cases against the manufacturers and/or operators of dangerous mountain equipment, including snowmobiles, snow-cats, and machinery if that equipment was defective, dangerous, or operated incorrectly.
If you feel that your skiing accident wouldn't have happened if not for someone else's action or lack of action and your injuries were no fault of your own, you might have an actionable claim for compensation. The experienced ski accident attorneys at Handy & Handy of Salt Lake City have over 45 years of experience in ski accident claims. We devote individualized attention to helping our clients achieve both financial compensation and justice.
Common Ski Injury Accidents and Claims
Skiing is a high-speed and high-risk sport. When a hazard on a ski slope or an accident on a lift causes injury, the results can be painful and costly.
Though many ski resorts require guests to sign a waiver agreement in order to protect the resort against liability, those waivers are difficult to enforce, particularly when an accident was caused by someone else or a failure on the part of the resort management. Still, there is an average of 68 catastrophic and fatal ski accidents occur in the United States every season as well as a much larger number of moderate and serious injuries including:
Neck injuries

Fractures

MCL and ACL (knee) injuries

Torn rotator cuffs

Sprains

Shoulder dislocation

Concussions and more serious traumatic brain injuries (TBIs)

Back and neck injuries and spinal cord damage

Torn ligaments and sprains

Abrasions and contusion
Though many ski resorts require guests to sign a waiver agreement in order to protect the resort against liability, those waivers are difficult to enforce, particularly when an accident was caused by someone else or a failure on the part of the resort management. Some common types of ski-related accident claims include:
Alpine skiing and snowboarding accidents

Ski lift-related accidents

Collisions with people or obstacles

Inadequate instruction or supervision

Inadequate maintenance of slopes or ski paths
Resort operators and skiers expect other skiers to follow safety and courtesy guidelines set by the National Ski Areas Association (NSAA). If you were injured by a person who violated one or more of these rules, you may have a claim for compensation. The Salt Lake City Skiing Accident Attorneys at Handy & Handy understand how to investigate your accident and identify the liable party. Then, we will craft a compelling case for your compensation by proving the legal points of liability on the part of the at-fault party.
If your skiing injury occurred due to preventable hazards, poorly trained instructors, or faulty ski lifts, the resort may be liable for your damages—paid through the owner's liability insurance. In some cases, an at-fault individual's insurance must cover your damages if their reckless actions on the ski slope caused your injury. If your injury occurred due to a defective piece of equipment, a product manufacturer may be liable for your damages.
Proving Liability in a Utah Ski Accident
If you suffered an injury on a ski resort in Utah due to someone else's fault, your Salt Lake City skiing accident attorney can prove liability by demonstrating the following:
That the at-fault party owed a duty of care to take reasonable measures to prevent injury such as a resort manager's duty to maintain safe lift equipment and slopes

That the at-fault party breached this duty through negligence or recklessness

That the negligence or recklessness directly caused your injury

That you've suffered significant economic and non-economic damages from the injury.
Most ski accident claims settle out of court once an attorney clearly demonstrates liability but your attorney from Handy & Handy is fully ready to litigate the matter in a courtroom if necessary to secure your compensation.
What You Should Do After a Skiing Accident
It's hard to keep a cool head after suffering an unexpected injury, especially when you've been enjoying Utah's scenic resorts and dry, powdery snow. But what you do in the immediate aftermath of a skiing accident can not only help you get the emergency medical treatment you need but also help you with your personal injury claim later. If you experience an accident at a ski resort be sure to do the following:
Accept any offered medical care at the scene from first responders or staff first aid

Allow transport to a hospital or go to an ER as soon as possible

Take the names and contact information of any witnesses. A great tip is to use your smartphone camera to record their statements and information right at the scene

Take pictures of the accident scene and include any relevant obstacles or equipment 

Tell the medical staff about ALL of your symptoms

Ask the medical professionals to take detailed notes of your injuries, prognosis, and recommended treatment and ask for copies

Save copies of your medical bills
List of Utah Ski Resorts
Curious about all of the different ski resorts in Utah? See below for the list.
1. Alta Ski Resort
2. Beaver Mountain Ski Resort
3. Brian Head Resort
4. Brighton Ski Resort
5. Cherry Peak Resort
6. Deer Valley Resort
7. Eagle Point
8. Nordic Valley Resort
9. Park City Ski Resort
10. Powder Mountain Ski Resort
11. Snowbasin Resort
12. Snowbird Ski Resort
13. Solitude Mountain Resort
14. Sundance Mountain Resort
15. Woodward Park City
What Damages and Compensation Can I Recover in a Ski Accident Claim?
Ski injuries are often at least temporarily debilitating since accidents on the slopes often involve broken, sprained, or strained limbs, back, or neck. You could also have suffered a serious head injury. These types of injuries are not only painful but cause the economic burden of medical bills while you may be unable to return to work. A successful ski accident claim could recover compensation for the following damages:
Current and future medical expenses

Lost wages and future lost wages for upcoming treatments, surgery, or physical therapy

Diminished earning capacity if your injury caused full or partial disability

Pain and suffering

Wrongful death in the tragic case of a fatality
If someone else caused your skiing trip to end in an injury, you deserve fair compensation. A Salt Lake City ski accident lawyer can use their decades of knowledge and experience in this type of claim to advocate for total compensation for your injury.
Why Choose Handy & Handy Salt Lake City Skiing Accident Attorneys?
At Handy & Handy, we offer the resources of a large firm while maintaining the diligent personal attention of a small firm. Our 45 years of experience can back you in court to fight for the full compensation you deserve for your losses. Best of all, we will evaluate your case with no upfront fee but instead work on a contingency basis so we don't get a payday until you do.
If you or your loved one was injured in a winter sports-related accident, call the ski and snowboard lawyers of Handy & Handy at (801) 264-6677 or contact us online today to discuss your possible claim.